We just received exciting news here at Single Mind! The Manifest analyst Jamie Kenny just called our founder to let us know that Single Mind is again a recipient of stellar reviews that praise our development work! Mobile app development and UX/UI Design are more important than ever for businesses to stay on top of trends. That is why we're thrilled that The Manifest labels us as a leader and features numerous verified client reviews praising our work!
The Manifest is the world's leading source for B2B ratings and reviews. Featuring the top providers across an array of B2B segments, The Manifest has the resources for you as you seek to find your next B2B service providers. The Manifest is the gold standard of B2B ratings and reviews platform because of their unparalleled trust. Each and every review is independently verified by their superstar staff, so that you can feel confident in The Manifest's ratings, reviews, and awards and how it showcases top firms!
We love to show off our stellar average across fourteen reviews on The Manifest! We have reviews from clients around the world who praise our work.
A recent review from the head of product at BeyondHQ, Allie Meng, praised our development and design work for her location analytics company! We provide development services to her IT company, and our team's main role is to address the client's product design and tech architecture needs.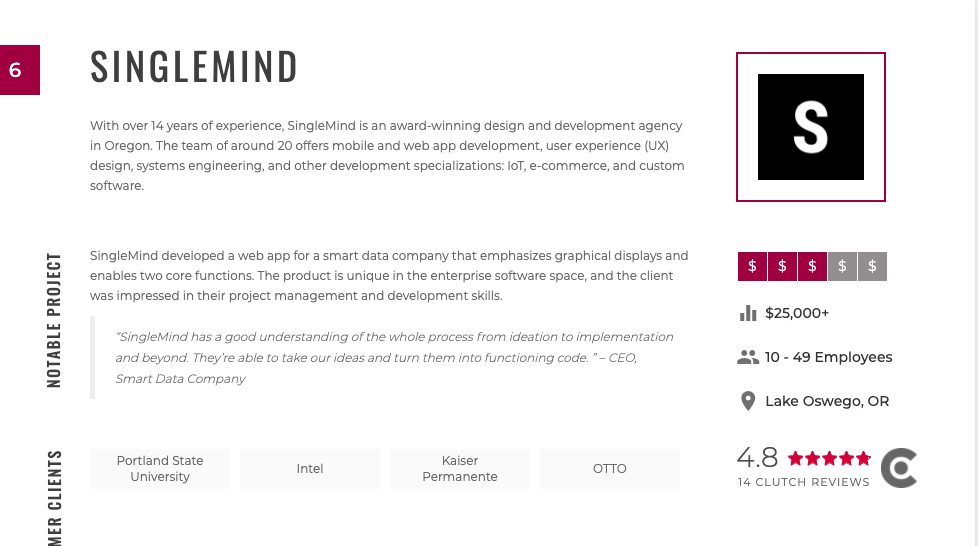 In her review, Allie Meng praised how with our reliable development support, her company was able to release a new version of their product in just three months. She called our team fast, efficient, and dependable. She goes on to say that since we always produce high-quality work, we continue to secure her ongoing engagement.
SingleMind is incredibly flexible, both in finding time for us and in supplementing our needs. They have been able to provide a cost-effective solution for us that we could not find with any other partner we spoke with.

Allie Meng, the Head of Product at BeyondHQ
We're incredibly blessed to be one of Oregon and America's top B2B providers and service according to The Manifest and our countless satisfied client reviews from clients like Allie Meng of BeyondHQ! If you want to join our ranks of satisfied customers, please contact us today!
---
SingleMind is an awarded software design and development consultancy. We serve enterprises, innovative startups, and non-profit organizations around the globe. Our diverse, agile team has more than 15 years of success in designing and developing digital products (mobile apps, websites, web apps, etc). Our goal is to help businesses thrive in today's ever-evolving, omnichannel world of technology.