As an award-winning product design and development agency, we're pretty confident in our technical capabilities. Our team at SingleMind has collaborated with a range of mid- to enterprise-level clients, crafting thoughtful digital solutions to transform businesses. But it's one thing to be confident in your abilities and another to be recognized by an independent body.
We're proud to announce that we've been named a leader on the annual Clutch 1000 list!
We've talked about Clutch before — They're an independent guide to B2B services, evaluating small- to mid-sized service providers based on their industry experience. Over the years, Clutch has acknowledged SingleMind multiple times: we ranked as a top UX Design team on their platform back in 2018, and we led the charts again for their 2019 report on top developers in Oregon. 
But the Clutch 1000 award really takes the cake. This exclusive list showcases 1000 of the highest-performing service providers on Clutch, which takes into consideration approximately 160,000 surveyed companies. We're one of over 200 mobile app development companies to make the cut!
We were able to win this award thanks to our active clientele, many of whom have been with us for years! They've left us amazing feedback on our services, including several 5-star reviews on Clutch, to help us grow as a company.
Take a look at what they've had to say: 
Our track record for customer satisfaction and demonstrated technical skills have allowed us to be listed on Clutch's sister sites, too. The Manifest, a directory of businesses, lists us within the top 20 mobile app developers in Portland, and Visual Objects shows off business portfolios based on company rank.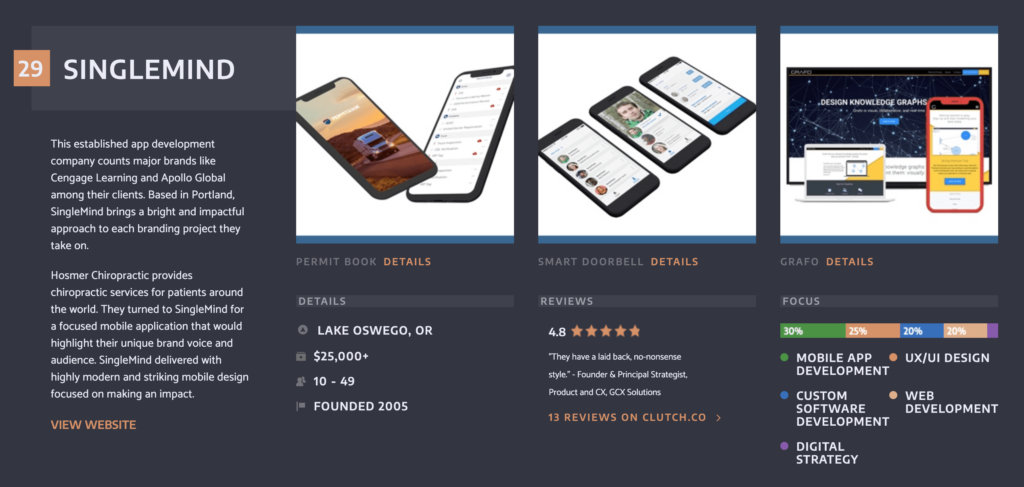 It's great to see how our work on Clutch has grown into other avenues, and we're excited to earn more client reviews as we evolve!
If you're looking to outsource your product's development to an experienced team, browse our past projects and get in touch for a consultation! We're well-equipped to keep your business competitive in today's ever-changing tech world.